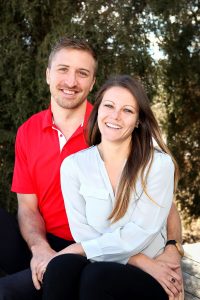 Dr. Joseph Vear received both his Doctor of Chiropractic and Sports Health Science Master degrees from Life University in Atlanta Ga. Dr. Vear is a board certified chiropractor who is additionally recognized as a sports practitioner. He received his Bachelor of Science degree in Biology from Hillsdale College. While at Hillsdale College, Dr. Vear played Division II college football; therefore he understands what it means to be a part of a team and the importance of keeping athletes functioning at their utmost potential.
While playing college football, Dr. Vear suffered a bad back injury which kept him off the field for a period of time. Durring this time, Dr. Vear sought many alternatives to relieve this back pain (drugs, doctor visits, physical therapy) all of which addressed his pain but did little to address the cause of his pain. It was not until Dr. Vear experimented with chiropractic care that he noticed that his back pain was not only gone, but he also felt healthier than he had in years. This experience was a life changing and career altering experience. Prior to this incident he was studying to become a PA. As a result of his sustained health and improved performance on and off the field, Dr. Vear decided to switch his studies to become a chiropractor so that he could provide these same benefits to other athletes and individuals looking to live healthier and more productive lives.
While finishing his Masters in Sports Health Science, Dr. Vear worked as a graduate assistant under Dr. Keith Rau) for Life University Sports Health Science department, treating all the athletes on campus both pre-game and post-game. While working for Life University, Dr. Vear worked alongside the ATCs in patient management and rehabilitation for injured athletes. Through clinical experience, Dr. Vear has seen dramatic results in his patients suffering from pain when utilizing chiropractic care alongside soft tissue work and corrective exercise programs. He firmly believes that in order for patients to see the best results, each of these components of health care need to be addressed and customized specifically for each patient.
Dr. Vear is one of four children and owes his work ethic and drive to help others from his parents, Rick and Marie Vear. Growing up, Dr. Vear was taught the importance of helping others and was raised understanding the importance of the Golden Rule "do unto others as you would have them do unto you". This has been the model by which Dr. Vear has shaped his patient care. Dr. Vear also credits his wife Adrienne Vear for her utmost dedication and sacrifice during his schooling and would not be the man he is today without her love and support.
Post-Graduate Certifications:
Active Release Technique (ART) full body certified practitioner
Certified Chiropractic Extremities Practitioner (CCEP)
Rock Tape Certified (FMT 1,2 & Movability)
Certified Chiropractic Sports Practitioner (CCSP)
Memberships and Affiliations:
American Chiropractic Association (ACA)
American Chiropractic Association Sports Practitioner (ACASP)
One Business Connection (1BC)
Greater Glendale Chamber of Commerce
Cherry Creek Chamber of Commerce
YMCA Community Programs Branch